Take advantage of our BONUS!!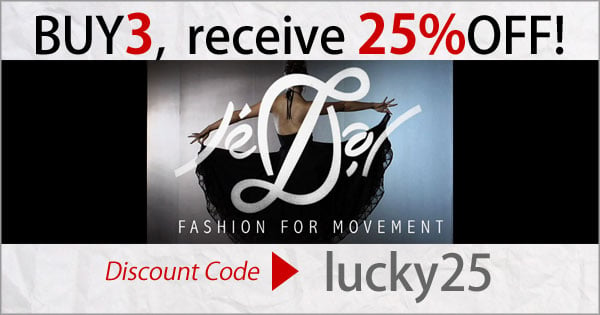 Buy 3 or more, 25% OFF!

If you order 3 pieces or more in one order, Je'Dor offers '25% OFF'!! At the Cart screen, type '

lucky25

' in 'Discount' box, and push Button'+'.

Rules & Regulations

* You must type 'lucky25' in 'Discount' box when you check out.

* If you remove some items and only buy one or two items after applying '25%OFF!!', the screen probably still displays '25%OFF!!', but the bill is calculated with original delivery charge after 'CHECKOUT'.

* If for any reason a stock control error has occurred in your purchase and we do not have all 3 items for example, and can only send 2 items out from your order. We can exchange for another item and the '25%OFF!!' still applies.

* If you decide to return a part of your order where you received '25%OFF!!'. Je'Dor will need to charge original delivery charge on that order and would be calculated in your refund amount. Or if you decide to exchange part of your order, delivery charges will apply to exchange item.

>> Continue Shopping!!